Lost Ohio
A fascinating look at Ohio's forgotten history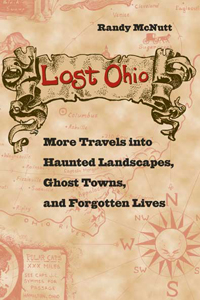 Go with Randy on a leisurely tour across the Buckeye State. You'll find a massive swamp that swallowed pioneers' wagons, a haunted prison, a faded German utopia, a town where they still chase horse thieves, a marriage mecca, a village where Buster the dog voted Republican, and a myriad of abandoned "ghost towns" and small cities.
In Lost Ohio you'll find a forgotten Ohio and its spirited inhabitants, and discover vanishing traces of our lives—celebrations, motels, road art, drive-in theaters, traditions, inventions, folk tales, battlefields, and forts. Randy's journeys rediscover missing pieces of our past that reflect a state of mind as well as a collection of landscapes. McNutt's vanishing Ohio is a place where rural America converges with small cities and fading history and disappearing culture, lost to burgeoning technology, global economy, technological immediacy, and time. He visits Fizzleville, Sodaville, and Footville; the hollow, metal globe that is the final resting place of Captain John C. Symmes, who theorized that the earth was hollow and access to the core was through the polar caps; the Mansfield Reformatory, Ohio's largest and toughest haunted house; Waynesville, home of the Ohio Sauerkraut Festival; and Harry Dearwester, the "carny" who guesses peoples' weight with 90 percent accuracy.
This serious but offbeat journey around Ohio will appeal to those interested in heritage tourism, Americana, Ohio history and lore, and back roads and small-town life.
Lost Ohio
More Travels into the Haunted Landscapes, Ghost Towns, and Forgotten Lives
by Randy McNutt
2006, 212 pp ISBN 0-87338-872-0
978-0-87338-872-6

Paper, $16.95
To order by phone, call the Kent State University Press at (419) 281-1802.
All Rights Reserved©RandyMcNutt.com/QualitySites.com
Best Viewed at 800X600